Demoichellec
Find all photos and videos in the gallery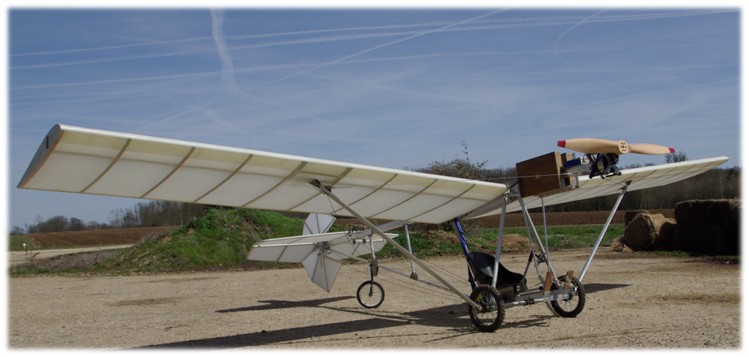 The Project Genesis

The demoichellec is the electric version of the Demoichelle, an ULM designed by Daniel DALBY. It is inspired by the 'Demoiselle' created by the engineer Alberto Santos-Dumont at the beginning of the 20th century. This ULM is a 3-axis aircraft with one particularity: it has articulated wings which avoid the ailerons for roll control. It has a wingspan of 8m30, an empty weight of 120kg and it can fly from 40 to 120km/h.

Our Demoichellec was realized by a team of students of the IUT (University Institute of Technology) of Chartres, France, with collaboration of two departments

GEII: 'Industrial Electric and IT Engineering', and
GIM: 'Industrial engineering and Maintenance'.

This is SOHIER Bruno, associate professor in the "Electrical Engineering Department and Computer Science" (GEII) of the IUT of Chartres, who is behind this project.

Aeronautical addict, he wanted to propose to his students a project that combined electric traction and aeronautics. He thus led a group of students from the IUT, highly motivated in a homebuilt ultra light motorized!

The project began with the discovery of ULM developed by Daniel DALBY. He develops robust machines, fast and easy to manufacture, and safe flying. The choice of the machine was gone to the 'Demoichellec', a high wing single-place ULM with conventional train, directly inspired by the 'Demoiselle' from Alberto Santos-Dumond. This is during the ULM fair of Blois 2007 that D. Dalby had the idea of ​​the "Demoichelle" after seeing a replica of the Demoiselle created by students of a well-known French aeronautical engineering school. The latter, created in 1907, had many structural defects. D. Dalby has thus proposed a more modern and stable one. You could find more information on the Demoichelle and other ULM of D. Dalby on www.pouchel.com.

The ULM Demoichelle was ideal for a project in IUT because

it is easy to build, the duration of the IUT training being only two years, and,
it is very light, ideal for a first electric ULM prototype.

Bruno Sohier





Daniel Dalby
The Mechanical Assembly
The construction has been done from the mechanical drawing distributed by the APEV (http://pouchel.com) (
http://pouchel.com
), and a construction kit. The construction took place at the Chartres aerodrome in a local lent by the "Vol à Voile" club.
A group of fifteen volunteer students of the IUT met weekly, from March to June 2011, for the construction until the end of the school year. The students are from the IUT of Chartres and especially of the departments:
Industrial Engineering and Maintenance (GIM), and
Electrical Engineering and Computer Science (GEII).
Many thanks to the "fédération de constructeurs amateurs d'avions" (ACCAA, an entity of the RSA federation) who helped us to achieve the fabric assembly. Special thanks to Bernard CINTRAT et Vincent LESAGE.
Once the fuselage finished it was exposed to the IUT.
The first asembly closing the achievement of the structure. It remains to realize the electric motor, and design and install the specific instrumentation.
Electrical construction of Demoichellec




After the completion of the structure of our demoichellec, the 2011-2012 academic year was devoted to the electric drivetrain, and the design and implementation of specific instrumentation to our electric motor.

Our engine choice fell on the high efficiency "brushless" Parawatt DM12k motor, with an external rotor configuration. It was developed and marketed by a French Association. The DM12k was originally designed for the electric paramotor. It can be connected in delta or star. This gives the choice of two settings Kv (rpm / V). Its weight is of 7.5 kg.

For the controller, our first tests were carried out with MGM systems. It soon turned out that these controllers are too weak, and we have changed to a Sevcon model, and then to a Kelly.

The batteries, Lithium-Polymer type, was first from KOKAM brand and then from NEC. The cells are assembled one by one in order to constitute the battery pack of the ULM, placed on either side of the main beam.

Drivetrain trials were then used to find and validate the best motor-controller-propeller set, which has then be tested on the ULM. Engine instrumentation was developed at the IUT and the flight central instruments was courtesy furnished by the Delta Omega company. We warmly thank Olivier DANCER.
The ULM was then transported from the IUT to the Chartres airfield in order to perform a weighing and to realize the first engine tests. After validating this steps, rolling tests followed by first flights were carried out.
This project was finished with success, the ULM is able to fly up to 35mn with a full battery charge. It is very silent wich shows one the best advantage of the electrical drivetrain. Our ULM was presented to various meetings, with the help of some IUT students.
The Demoichellec Flight